After enjoying presenting Film Making 101 three years ago at the u3a in Milton Ulladulla, I'm going to present a similar course on script writing at the local Ballina u3a.
Given that films can be made and distributed so cheaply these days, mastering the basics of screenwriting is the first step in making your own films. Without a good blueprint, the final product will suffer. This course will teach the basics.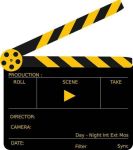 The outline for this 8 week course is:
Introduction – the basics of script writing, and how scripts fit into film making.
Structure – build a sound base for your screenplay.
Plot – create an interesting story that draws the audience in.
Character – create realistic characters the audience cares about.
Dialog – create engaging dialogue that keeps the audience involved.
Feedback – use what you've learned to write a short script, and receive feedback.
Industry – how to break into the film industry.
DIY – make the film yourself, using your own script.
Course dates:
12th October – 30th November
Mondays: 4pm – 5pm
Visit the local Ballina u3a website to join and sign up.